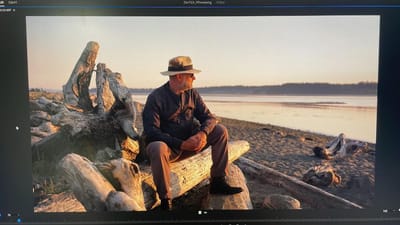 Award-winning Creative Director at Zinc Film, part of Zinc Media. Includes films for State Street, Sonoma Tourism, Visit Destination Victoria, Tourism in Skåne, Entia, Autoflight, UAC/Montana Aerospace, IBA, West Midland Pensions, ATAG, Trafalgar House...
Working across pitching, script writing, directing, producing, edit producing, PR, copy, sales.
Shortlisted for the New York Festivals TV & Film Awards - Documentary - "Sustainable Travel: Where Next?"
Director, Producer and Writer of over 200 branded content, adverts, VT's, documentaries, short films and features.
Twenty years experience, highly experienced interviewer of over 350 contributors, edit producer of over 120 films.
AWARDS
Official Competition Selection Golden Lion Award - Venice Film Festival
Winner of Best Narrative Feature - Lighthouse Film Festival - USA
Winner of Best Experimental Short Film - Golden Sparrow International Film Festival - 2023
Winner of Best Experimental Short Film - Valparai International Film Festival - 2023
Winner of Best Experimental Short Film - Golden Horse International Film Festival - 2023
Winner of Best Experimental Short Film - Rohip International Film Festival - India - 2023
Winner of Best Fearless Short - Make Art Not Fear Festival - Lisbon - 2022
Winner of Audience Award - Uppsala Film Festival - Sweden
Winner of Best Short Film - FLUX Moving Image Artist's Festival - UK
Winner of Best of Festival Award - Black Earth Festival, Chicago - USA
Runner-Up Prize - Quantum Shorts Film Festival - Singapore
Nominated for Best Foreign Film - LA Comedy Film Festival - USA
Honourable Mention - Dubai Film Festival
Honourable Mention - Sydney Australian Film Festival
Finalist - Chuncheon Film Festival - China
Finalist - Spring Ding Film Festival - USA
Finalist - Link International Film Festival - UK
Semi-Finalist - Festival del Cinema di Cefalù - Italy
Semi-Finalist - LELOUN International Film Festival - Syria
INITIATIVES, EDUCATION
Commissioned feature film screenwriter for Tinopolis, Ffatti Ffilms, Black Camel, S4C, Welsh Film Fund
Recipient of Creative England's Emerging Talent Fund
Rolex Protégé and Mentor Arts Initiative Final candidate mentored by Stephen Frears
Founder, Teacher - Forward Focus Film School for young people affected by the Grenfell tragedy
Founder, programmer - Cube Cinema, Bristol
Judge - COVID-19 World Student Film Festival
Bournemouth Film School Graduate
WRITING
"5,000 years" published in Horizon Magazine - 2021
"Canal" published in isacoustic - 2020
"Palm" published in Yellow Mama - 2020
"Out Here" published in Shotgun Honey - 2020
Shortlisted for the York Poetry Prize - 2020